The Bingoes
From Rocklopedia Fakebandica
Jump to navigation
Jump to search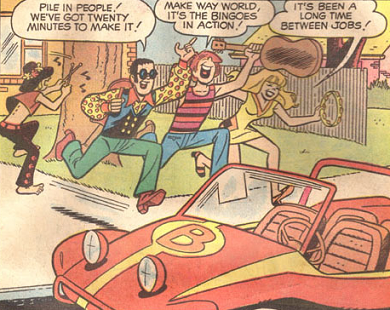 Garage band from the comic book That Wilkin Boy (1969-1982). An Archie rip-off... from Archie Comics! Teenager Bingo Wilkin had his own band. Bingo Wilkin is a cousin of Jughead Jones of The Archies.
Lineup:
Bingo Wilkin, guitar
fashion victim Tough Teddy
Samantha Smythe
hippy Buddy, drums
To celebrate the 650th issue of Archie (January 2014), a mini story arc over four issues had The Archies, Josie and the Pussycats, The Bingoes, and The Mad House Glads all going on a world tour starting in India. Fiona Staples did an alternate cover for the issue depicting all four bands.
External Links