Josie and the Pussycats
From Rocklopedia Fakebandica
Jump to navigation
Jump to search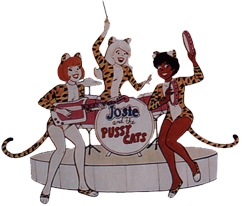 All-girl pop group from the 1970 animated TV show of the same name and the 1972 revamped version, Josie and the Pussycats in Outer Space.
Josie sang and played guitar, Melody played drums, and Valerie played tambourine and sang. You know, they got a remarkably full sound from just drums, guitar and tambourine. Wimpy Alexander Cabot III was their manager.
J and the Ps were originally created as comic book characters by Dan DeCarlo, and introduced in their own comic book, She's Josie in Feb. 1963. A live action movie version of the cartoon came out in 2001.
See also
External Links