Roy Davis
From Rocklopedia Fakebandica
Jump to navigation
Jump to search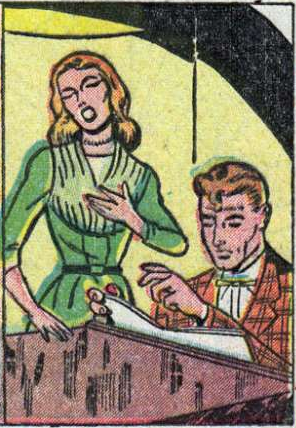 Pianist from the "Blues" story of romance comic book All True Romance #14 (November 1953).
Formerly with bandleader Tony Kipp's band, he quits to coach aspiring singer Ellen Delaney, who tried out for Kipp, but was rejected.
The couple get a contract at Nick Toretti's Albatross Club and get married. But when a talent scout wants Delaney for a Broadway musical and not Davis, they fight, and she leaves to do the show. But she's fired after two weeks- she needs Roy to accompany her to sing her best. Not wanting to go back to Roy in Chicago, she she takes a job singing in a crummy Greenwich Village dive where the sleazy club manager tries to put the moves on her in exchange for extending her contract.
One night, Roy magically re-appears to accompany her, re-sparks their musical magic and love, beats up the sleazy club manager, and they go on to success.
See also
External Links