Getting Gay With Kids
From Rocklopedia Fakebandica
Jump to navigation
Jump to search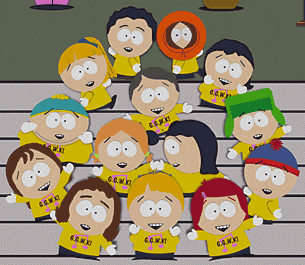 In the "Rainforest Schmainforest" episode (04/07/1999) of gleefully tasteless Comedy Central animated show South Park, the kids (Cartman, Kyle, Stan and Kenny) sassmouth choir teacher Miss Stevens (voiced by Friends' star Jennifer Aniston) who's come to speak to their class about this kids choir with a horrible, horrible name. As punishment, school counselor Mr. Mackey (who's on the choir's board of directors) makes them join on the eve of the choir's trip to Costa Rica to sing a dorky song about the rainforest.
The choir takes a trip into the rainforest, but when their guide is killed and eaten by a snake, the kids and Miss Stevens wander lost and suffer various horrors of the green hell. Fortunately, they are rescued by heroic construction workers and their bulldozers, just in time for their performance for the President of Costa Rica and his people. They change the lyrics of their cheesy, tape-backed, pro-rainforest song to an anti-rainforest song.
See also The Avenue Ghetto Street Boys, Fingerbang, The Ghetto Avenue Boys, Jerome "Chef" McElroy, Raging Pussies, Timmy! and the Lords of the Underworld.