Crow
From Rocklopedia Fakebandica
Jump to navigation
Jump to search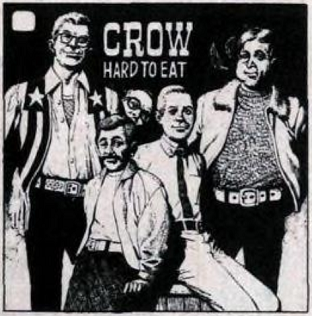 Cleveland band that's part of the new "Dullness Revolution" in music, from a record review in the Rolling Stone parody "Rock 'N' Rollin' Stone" feature of tween satire mag Crazy #3 (march 1974).
Their album is Hard to Eat on Respite Records.
Lineup:
Jimmy Dry, lead guitar
Anton Jejune, rhythm guitar
T.D. Uss, drums
John Paul Vacant, bass
Harold Sipid, cello
Songs:
"Hard to Eat"
"Crabgrass Menace"
"Too Much Chlorine In the Pool (It Stings My Eyes)"
"Patio Dreamin'"
"My Life is a Circular Driveway"
"Birthday Party Magician"
"Buick Joy"
"Linda On My Lawn"
"Central Air"
"Fry Me A Minute Steak"
"Free, White, and Nouveau-Riche"
See also
External Links