The Walking Dead
From Rocklopedia Fakebandica
Jump to navigation
Jump to search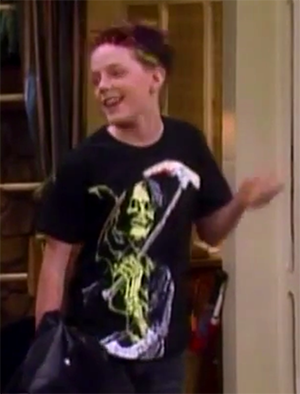 "... the greatest rock band in the entire world," according to breathless tween Andy (Mackenzie Astin) in the "Younger Than Springtime" episode (21 Mar. 1987) of sitcom Facts of Life.
Others' comments: "Did you hear about last their concert in Chicago? The lead singer took off his pants and ate them."
"And that concert in Detroit? They ripped up their instruments, set them on a bonfire, and jumped it with a motorcycle. That was during a ballad."
Andy is first banned from the concert, but his mom later relents.
The band is never seen, but Andy sings some lyrics while listening on his Walkman: "In my personal graveyard... decomposing my love... Carve your name in my headstone...." At the end, he comes home in a Walking Dead t-shirt, crazy hair, and a skeleton earring: "they handed them out at the concert; it's the bass player."
See also Sexy Lingerie.