The Blowholes
From Rocklopedia Fakebandica
Jump to navigation
Jump to search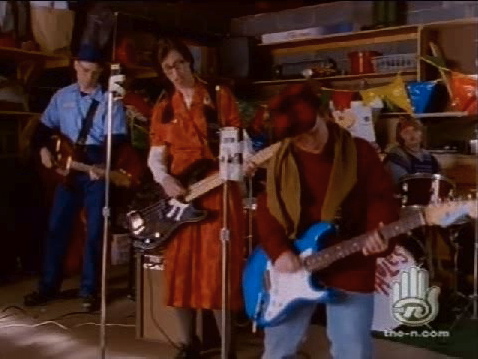 Nickelodeon's 1993-1996 live action comedy, The Adventures of Pete and Pete (about two brothers both named Pete) was a minor masterpiece of surreal humor. It frequently attracted hip guest stars like Michael Stipe, LL Cool J, Steve Buscemi and Iggy Pop.
The "Hard Day's Pete" episode (16 January 1994) attracted real musicians Syd Straw (as math teacher Miss Fingerwood) and Marshall Crenshaw (as meter reader Mel Ratner), specifically. They combine forces with little Pete (Danny Tamberelli) and Clem Linnell (on drums) to briefly form The Blowholes to recreate a song little Pete heard by another, unnamed garage band. The unnamed band was played by Polaris, a.k.a. Miracle Legion, who wrote and performed the show's theme, "Hey Sandy."
A Polaris three song promotional cassingle was once offered via cereal box. "Blowhole" was a favorite insult used by little Pete.
See also