The Bedside Manorisms
From Rocklopedia Fakebandica
Jump to navigation
Jump to search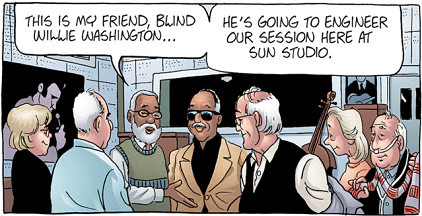 Band of seniors at the Bedside Manor retirement home, from the comic strip Funky Winkerbean.
They are led by former Westview High school band fuhrer, Harry L. Dinkle. He seems to have mellowed somewhat, but he still makes the seniors go out and sell candy as a fundraiser. They first appeared in December 2015.
In 2017, member Connie raises enough money via an IndieGoGo fundraiser to finish their CD. Member Walt books them in Sun Studio, Memphis, cause he used to live there and knows bluesman Blind Willie Washington.
External Links