The Beagles (Bunny comic)
From Rocklopedia Fakebandica
Jump to navigation
Jump to search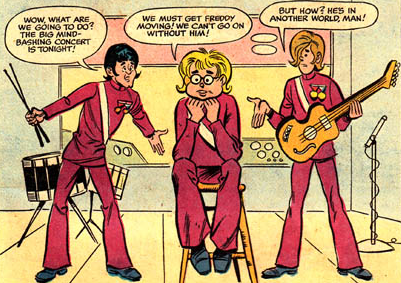 Liverpudlian Beatles knock-offs in the Harvey comic book series Bunny featuring uber-hipster Bunny Ball, who got to hang out with this successful rock band. They appear in the first issue, 1966.
Lineup:
Nigel
Stanley
Frederic
Harold
manager Garson Goldentripp
They also appeared in Harvey Pop Comics Vol. 1, No. 2, aka Rock Happening (November, 1969).
They may have first appeared in Richie Rich #34 (June 1965) with Little Lotta, who helps them escape rabid fans. Or maybe it was a different band with the same name. Anybody got that comic and can check?
External Links
See also