The Apes
From Rocklopedia Fakebandica
Jump to navigation
Jump to search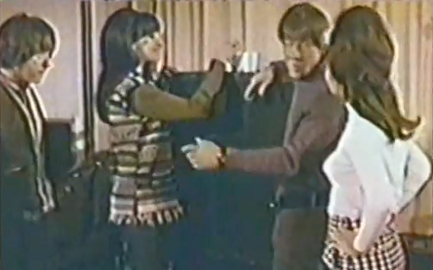 Rock band briefly seen in the "Cave Family Swingers" episode (05 Feb 1967) of lowbrow high-concept TV series It's About Time. Imagine Gilligan's Island, only instead of being stuck on an island, you're stuck back in time with cavemen. That's the premise of this sitcom, also created by Sherwood Schwartz. When the astronauts get rescued, the cave family sneaks aboard with them, coming back to the present day.
Neighbor and talent agent Rick Stewart overhears them singing "Dinosaur Stew" in their apartment, and gets them a recording deal with Big Beat Records. He thinks their caveman thing is a gimmick, and they're going to be "... bigger than The Beatles, Sonny and Cher, and the King Family all rolled into one!"
At the Big Beat Records recording studio, the Cave Family Swingers briefly meet fellow Big Beat recording artists The Apes, a two girl, two boy quartet. They're listening to a playback, and we hear a snippet of instrumental music. They're not credited, but one of the guitarists is named Lester.
See also
External Links