Spinal Tap
From Rocklopedia Fakebandica
Jump to navigation
Jump to search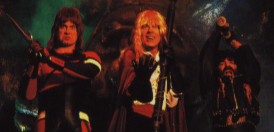 Heavy metal brain-dead hair farmers from the now classic 1984 comedy This is Spinal Tap, done up documentary-style by fake director Marty DiBergi (Rob Reiner). The movie captures every embarrassing moment of their disastrous tour as well as dipping back in time to sample the band's mutations from early '60s skiffle to Merseybeat to flower power to finally the heaviest of metal. As other members come and go and a seemingly endless list of drummers meet bizarre and unnatural ends, the band's core remains joined in mediocrity: lead singer David St. Hubbins (Michael McKean), lead guitarist Nigel Tufnel (Christopher Guest), and bassist Derek Smalls (Harry Shearer).
Guest, McKean and Shearer all dabbled in musical parody before Spinal Tap; McKean, Shearer and Laverne & Shirley's David L. Lander were also all members of comedy troupe The Credibility Gap (1968-1976) where they performed songs and sketches on L.A. radio station KRLA. Later, McKean was a member of duo Lenny and the Squigtones on Laverne and Shirley as Lenny Kosnowski. Guest was musical director on National Lampoon's 1972 Radio Dinner album and also played guitar on the 1979 Lenny and Squiggy present Lenny and the Squigtones album- under the alias Nigel Tufnel! Interestingly, Spinal Tap first appeared before the public a full five years earlier in a glam rock incarnation on the 1979 failed sketch comedy show pilot, The T.V. Show, playing the still unreleased song "Rock and Roll Nightmare." That version of the band included singer/songwriter Loudon Wainwright III on keyboards!
Guest, McKean, and Shearer kept up the pretense to the hilt, appearing as the band in music magazines, their own greatest hits album commercial, even on Saturday Night Live in 1984, playing "Christmas with the Devil" - in May. They had a cameo on the Hear 'N Aid album and video; the 1986 heavy metal "We Are the World." In 1992, they released a new album, Break Like the Wind, featuring guest musicians Jeff Beck, Cher, Steve Lukather, Joe Satriani, Slash, and Dweezil Zappa. They even toured as the band in 2001.
In 2018, Shearer released a solo album as Smalls, Smalls Change (Meditations Upon Ageing), that features collaborations with David Crosby, Taylor Hawkins, Donald Fagan, and Artie Fufkin...we mean, Paul Shaffer.
Band History
Here's a capsule history of the band: In 1964, guitarist David St. Hubbins (formerly of The Creatures) and Nigel Tufnel (formerly of The Lovely Lads) formed The Originals, but because there was already a band named that, they changed to The New Originals. Then, in late 1964, they changed the name to The Thamesmen. Then in late '65 or early '66, they went through rapidfire personnel and name changes, including: The Dutchmen, Rave Breakers, Hellcats, Flamin' Daemons, Shiners, Mondos, The Doppel Gang, The Peoples, Loose Lips, Waffles, Hot Waffles, Silver Service, Bisquits, Love Bisquits, The Mud Below, and the Tufnel-St. Hubbins Group before settling on Spinal Tap in December of 1966. In late 1967, bassist Derek Smalls (formerly of Teddy Noise, Skaface and Milage) permanently joined the lineup.
In 1976 the band played under the names Anthem and The Cadburys while having legal difficulties with their record label, Megaphone. And of course they played at least one gig as Spinal Tap Mark II when Nigel briefly walked out on their 1982 US Tour. Sheesh! These guys make this job hard.
For other Spinal Tap related bands, such as bands they toured with, the bands members came from, the bands members joined or started after leaving, and band member side projects, check out Chip Rowe's comprehensive Spinal Tap site. Or visit the band's official web page and see if the joke has worn thin and Harry Shearer, Christopher Guest and Michael McKean should just get on with their careers. Crap, we hope not!
Discography
Heavy Metal Memories, 1983 (compilation)
Smell The Glove, 1982
Shark Sandwich, 1980
Rock 'N Roll Creation, 1977
Tap Dancing, 1976
Bent for the Rent, 1976
Jap Habit, 1975
The Sun Never Sweats, 1975
Intravenus de Milo, 1974
Blood to Let, 1972
Nerve Damage, 1971
Brainhammer, 1970
Silent But Deadly, 1969
We Are All Flower People, 1968
Spinal Tap Sings (Listen to the) Flower People and Other Favorites, 1967
See also
External Links