Skeets Bradley and His Jazzboys
From Rocklopedia Fakebandica
Jump to navigation
Jump to search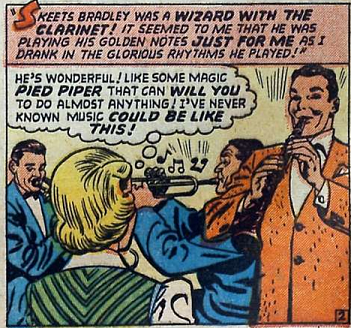 New Orleans jazz combo fronted by handsome, talented, unambitious clarinetist Skeets Bradley, from the "His Kind of Love!" story of comic book Love Diary #35 (June 1953).
Bradley's girlfriend Mindy wants him to get a steady job after they visit dying jazz geezer Binky Barnett's sad, sad hovel. Spooked, she calls Bradley a "music hobo" and demands he audition for a steady job with the big band orchestra of Hank Stevens, who is somehow even whiter than Bradley. When Bradley flakes on the audition, Mindy breaks up with him.
Later, Bradley gets the job and they reunite.
External Links