Pierre Boulanger
From Rocklopedia Fakebandica
Jump to navigation
Jump to search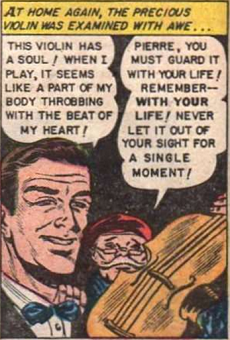 French violin virtuoso from the story "The Spell of the Hanging Tree" from horror comic book The Beyond #10 (April 1952). He is sentenced to death by hanging after killing Clemente Souris, a rival for a girl he loved. Hanged from a tree in his hometown of Avegnac in Normandy, his grief-stricken violin-maker father stoops to black magic to bring his son back to life. He crafts a violin from the wood of the hanging tree. Playing it brings his son back to life, but there's a catch of course. Pierre must play the violin to live, and if he loses the violin, he will turn into a werewolf. Oh... right.
Pierre and his father René flee France for London and change their last name from Poulenc to Boulanger. Rene begins his rise in the concert world there, but after soloing with the Royal Philharmonic Orchestra (under the baton of Sir Galton), his violin is stolen. Pierre and his father work to track it down, but it's been sold. Pierre goes to steal it, but turns into a werewolf and kills a guy.
Then this happens again. But the third guy manages to cut off Pierre-wolf's hand and not be brutally murdered. When René sees that Pierre can never again play the life-sustaining violin, he breaks the violin, killing his son. Possibly René was slightly bothered by the murders his son committed also.
External Links