Marcus "Marbles" Le Marquez
From Rocklopedia Fakebandica
Jump to navigation
Jump to search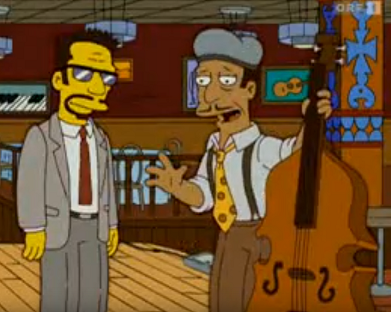 Jazz bassist from the "Jazzy and the Pussycats" episode (September 17, 2006) of animated television series The Simpsons. He, along with fellow jazz musician Defonzo "Skinny" Palmer, ask drummer Bart Simpson to join them at their regular gig at the club Jazzy Goodtime's.
He and Defonzo ask Lisa Simpson to sit in another chair in the audience as they wanted to jam with Bart. They nickname Bart "Tick-Tock" and make him part of their band. After Bart hurts his right arm, they hold a benefit concert to raise the money for Bart to have surgery to fix his arm again so he can drum.
The episode name is a reference to fictional band Josie and the Pussycats.
See also
External Links