Lessini
From Rocklopedia Fakebandica
Jump to navigation
Jump to search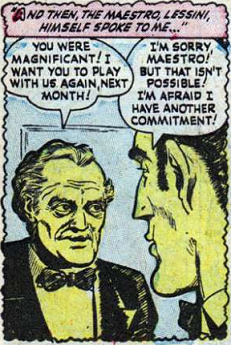 Established orchestra conductor shown in a flashback of the "Machine Gun Symphony" story of comic book Exciting War #6 (November 1952).
Protagonist and pianist Ed Taylor gets his big break as a soloist with an unnamed symphony orchestra conducted by Lessini. Lessini is impressed with Taylor and wants him to play with the orchestra again, but is disappointed to learn Taylor is joining the Army. He admonishes Taylor to take care of his hands while he's in the Army.
Lessini's first name is not given.
See also
External Links