Larry
From Rocklopedia Fakebandica
Jump to navigation
Jump to search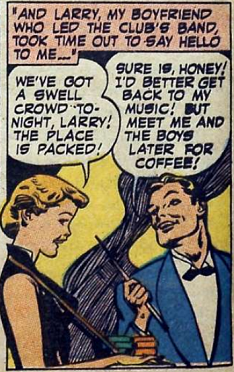 Bandleader at the Hotshot Club in New York City from the "Big City Girl" story in romance comic book Love Diary #12 (January 1951).
Cigarette girl Lois loves working in the club because of the excitement of big city life. She hangs out with boyfriend Larry and the band for coffee after work. But one night she passes out. The doc prescribes a long rest in the country! Nooooo! She initially hates it, although there is hunky local Tom Hawkins. One day she gets a telegram saying to come back to work or she's fired. She tries but misses the train. When she finally makes it, she's lost her job, Larry's got a new girl, and the city seems cold and superficial. So she goes back to the country and becomes a farmer's wife for Tom.
Larry's last name is never given.
External Links