Kurtis Blowfish
From Rocklopedia Fakebandica
Jump to navigation
Jump to search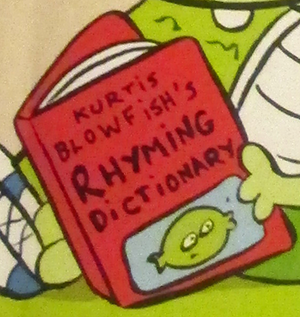 One of many animal pun rappers in the background of the 2010 children's picture book Hip & Hop, Don't Stop!, written and illustrated by Jef Cjekaz. His name is a parody of real rapper Kurtis Blow.
Hip, a turtle, and Hop, a rabbit, bravely cross the species lines to become friends and compete as Hip & Hop in the county Rap Off contest.
Hip is shown reading the Kurtis Blowfish's Rhyming Dictionary.
External Links