Killing Spree
From Rocklopedia Fakebandica
Jump to navigation
Jump to search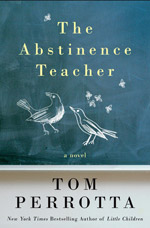 Local metal band in the 2007 novel The Abstinence Teacher by Tom Perotta.
Luckily, Bill Spooner had remembered him, too; they'd played a lot of the same clubs in the early nineties, back when Tim was in a grunge band called Placenta, and Bill was the main songwriter and lead shredder for Killing Spree, a locally famous death metal trio that had released a couple of well-received albums on an indie label out of New Brunswick.



Page 129

Bill and Jill had been a famous rock 'n' roll couple back in the day. Black leather, tattoos, hair hanging in their faces. They went everywhere on Bill's Harley, wore matching fringe jackets with the Killing Spree logo on the back, a skeleton with a cigarette in its mouth, blasting away on a tommy gun.