Jake Fletcher
From Rocklopedia Fakebandica
Jump to navigation
Jump to search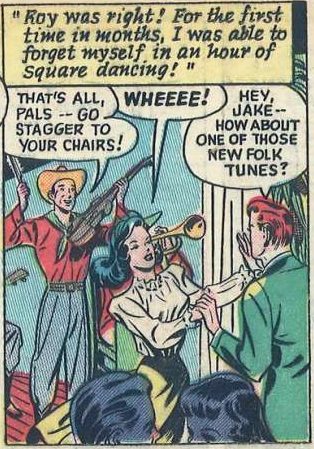 Fiddler and minor character in the "Wooed by a Wanderer" story from romance comic book Lovelorn #8 (October-November 1950).
He's a local musician with a Western-garbed square dance band in the Midwest backwater berg of Ponca City. Local gal Betty Channing, trying to get over a fling with wandering banjo player Cal Turner goes with steady date Roy to a dance where Fletcher is playing.
But Fletcher plays a new tune of off a record that's just been released, Banjo Solos by Cal Turner. Do'h! Betty runs from the dance weeping.
See also
External Links