George Ricco
From Rocklopedia Fakebandica
Jump to navigation
Jump to search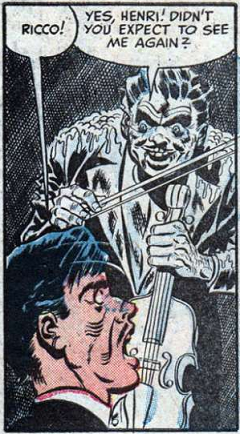 Successful, talented classical violinist from the "Death Song!" story of horror comic book Weird Terror #2 (November 1952). He graduated with high honors from the same music conservatory as fellow violinist Henri Marleau. However, their paths diverge after a critical audition at for New York radio station that Ricco gets and Marleau doesn't. Ricco affects an all-white violin instead of a typical wooden colored one.
Ricco achieves success and stardom while Marleau plays for pennies in the street. Eventually enraged, Marleau surprises Ricco after a concert, murders him, buries the body, smashes and burns Ricco's white violin, and gets away with it. He substitutes at the next concert when Ricco's a no-show, wows everyone with his crazed virtuosity, and becomes a star himself.
Ricco's ghost randomly torments and terrifies Marleau until he finally throws himself from the balcony of his 40th floor penthouse and dies.
See also
External Links