Floyd Burney
From Rocklopedia Fakebandica
Jump to navigation
Jump to search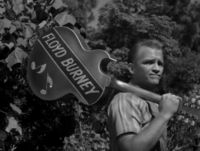 Known as the "The Rock-A-Billy Kid" and "The Wandering Man," he's the focus of the "Come Wander With Me" episode of the original The Twilight Zone (first aired 22 May 1964). Played by Der Bingle's eldest, Gary Crosby, Burney is out in the country looking to buy a folk song to record. (Apparently, rockabilly success depends upon one's shopping abilities.) After subjecting the audience to really, really, REALLY painful "hip" lingo (lots of "daddy" and snapping fingers), he meets a beautiful woman singing a lovely tune. She won't sell him the rights, and when he tries to woo it out of her, the bodies (including his) start to fall.
According to a sign painted on the door of his convertible, Burney's hits are:
"Your Tears Ain't Enough"
"My Honey Tree"
"Baby Don't Hang On"