Ezra Reed
From Rocklopedia Fakebandica
Jump to navigation
Jump to search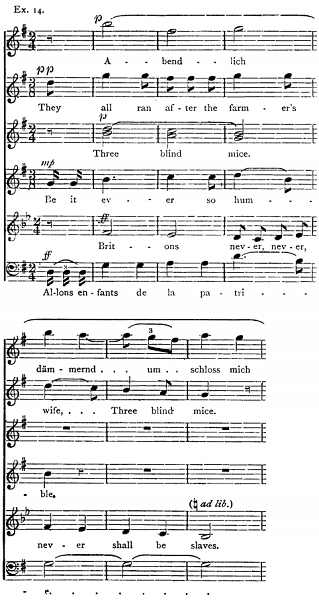 English classical composer, given to endless variations on the same theme, from the "Next Seasons Novelties" joke review in vol. 54, no. 846 (Aug. 1, 1913) of The Musical Times, by Harvey Grace.
"Symphonic variations," by Ezra Reed (Dunces, Hay & Franter).

Mr. Reed in this work adds materially to his already high reputation as a composer of serious organ music. The theme is a contracted version of a well-known English air, further disguised by being put in the minor. There are twelve variations all full of the daring originality we expect from the composer. It may be of interest to give the opening of the more striking among the number. The fourth, for example, is a sombre movement, with a theme of three notes, derived from the first bar of the air, treated as an ostinato.

The seventh is a delightfully piquant Scherzo...

The eighth is a striking example of Mr. Reed's audacity. We have the theme in G major, with an accompaniment in A♭! It sounds almost too bad to be true...

How the composer keeps this difficult business going for three pages can be ascertained only by the purchase of a copy. This variation alone is worth the price charged. It is full of a poignant, bitter emotion that reveals itself only after long, long acquaintance.
His finale manages to combine "Rule, Britannia," "Three Blind Mice," "Home, Sweet Home," part of Die Meistersinger von Nürnberg, and "La Marseillaise" SIMULTANEOUSLY.
External Links