Dundy
From Rocklopedia Fakebandica
Jump to navigation
Jump to search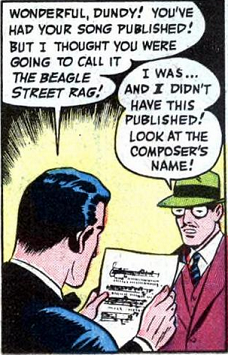 Arranger and would-be songwriter from the Swing Sisson story in comic book Feature Comics #100 (July 1946). He used to be a trumpeter before he became an arranger.
He was getting ready to publish his song "The Beagle Street Rag" when somebody else published it under the fake name Marvin Tate, and with a different title. Angry, Dundy tells bandleader Swing Sisson about it, and goes looking for "Marvin Tate." Dundy is on the phone to a lawyer when "Marvin Tate" gets to Dundy first, shooting him. Dundy doesn't live long enough to tell Sisson who shot him.
Sisson figures out it must be a musician who was present when Dundy asked him to play the tune at the Clover Club. Turns out it was drummer Bill Givot. Sisson disguises himself as Dundy and appears at a jam session that Givot is playing at, spooking Givot and goading him into attacking and confessing.
Sisson gives Givot a proper beating and turns him over to the cops.
See also
External Links