Bender
From Rocklopedia Fakebandica
Jump to navigation
Jump to search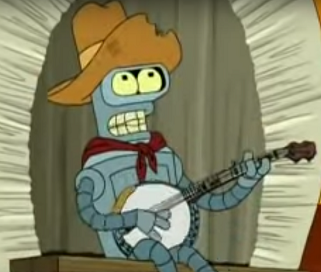 Robot who occasionally wants to be a folk singer from the animated sci-fi television series Futurama.
In the "Bendin' in the Wind" episode (first aired 22 April 2001), robot Bender (full name Bender Bending Rodriguez) finally fulfills his dream of being a folk singer. A run in with a giant can-opener leaves Bender paralyzed with his hydraulics shot. A chance meeting in the hospital with the head of real rocker Beck (voiced by himself) gets Bender on tour with him as a washboard player.
Bender becomes a cause célèbre for broken robots and he and Beck put together the Bend-Aid benefit concert, which also features Cylon and Garfunkel and Wailing Fungus.
Alas, Bender is discredited as a fraud just as he finishes his only song, "My Broken Friend," because his mobility miraculously comes back.
Shifting genres, the ninth-season episode "Free Will Hunting" (first aired 8 August 2012) ends with a throwaway gag featuring Bender in a mid-'00s-style bacchanalian rap video for "D€¢i$ionz I Made," which is credited to Young Biddy.
In the final-season episode "Forty Percent Leadbelly" (first aired 3 July 2013), Bender returns to his folk-singing career as Ramblin' Rodriguez after meeting Silicon Red.
Bender is also shown briefly strumming the banjo in various other episodes.