Zorak
From Rocklopedia Fakebandica
Jump to navigation
Jump to search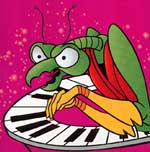 Never has a repurposed cartoon brought such joy. Zorak, an evil mantis-like alien, once tried to kill Space Ghost in the original 1966 Hanna-Barbera Space Ghost and Dino Boy cartoon series. But on Cartoon Network's ever-zany Space Ghost: Coast to Coast, he is now is forced to serve as the keyboardist and occasional singer. Host Space Ghost and idiot sidekick Brak are also known to step up to the mic. There was also an appearance by The Original Wayouts. Rhino Records released two CDs of their sublime ridiculousness, Space Ghost's Musical Bar-B-Que (1997) and Space Ghost's Surf & Turf (1998).
Later, in the "Gimme a Brak: War Next Door" episode of Space Ghost: Coast to Coast spinoff The Brak Show (first aired 9 Sept. 2001), Zorak becomes a singing star when his voice changes.
(See also The Original Wayouts).