The Silicon Teens
From Rocklopedia Fakebandica
Jump to navigation
Jump to search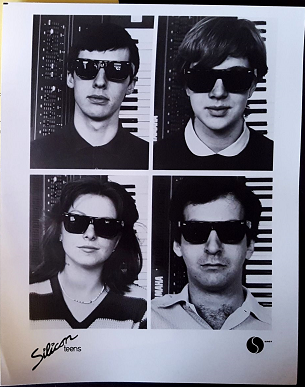 The novelty band The Silicon Teens, which released a 1980 album of synthpop covers titled Music for Parties on Mute Records, was in reality, the creation of the label's founder, Daniel Miller, who also invented the fictional members Jacki, Darryl, Paul and Diane and their backstory for the press release.
The band was portrayed by actors in interviews, press photos, and their music video for their cover of Chuck Berry's "Memphis, Tennessee." Musician Frank Tovey, aka Fad Gadget, portrayed Darryl. Miller himself portrayed Paul.
The press release's invented bio made them all teenagers and childhood friends in Liverpool. Inspired by the punk movement and subsequent post-punk bands like The Normal and Throbbing Gristle, they used a synthesizer owned by Jacki's older brother Kevin to create their songs.
The Normal was another Daniel Miller project, Throbbing Gristle was on Mute Records at the time, and Fad Gadget was Mute Records' first signed artist. Larry Least, the album's producer and writer of the original tune "Chip 'n' Roll," was another pseudonym of Miller's!
Wow, so much synergy there, Mr. Miller!
Miller even credited the Jacki character on another Mute Records release! Jacki played synth on the 1980 Missing Scientists album Big City Bright Lights.
Somehow the jig was up by 1983, as both The Trouser Press Guide to New Wave Records and the International Discography of the New Wave, 1982-1983, Vol. Two revealed the album was a Daniel Miller solo project.
External Links