La Stilla
From Rocklopedia Fakebandica
Jump to navigation
Jump to search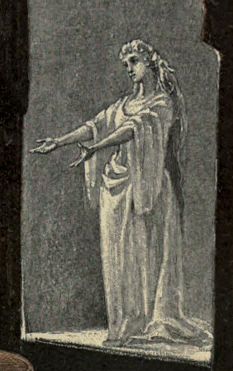 Italian prima donna opera singer from the 1892 novel Le Château des Carpathes (The Carpathian Castle) by author Jules Verne, better known for his pioneering sci-fi than this gothic-y, romantic-type stuff.
Freaked out by a stalker who goes to all her shows (Baron de Gortz), La Stilla accepts the marriage proposal of Romanian Count Franz de Telek, but dies onstage singing Arconati's Orlando.
Later at the Baron's creepy castle, Telek thinks he hears her singing.
La Stilla, then aged five-and-twenty, was a woman of incomparable beauty, with her long golden hair, the glow of her deep-black eyes, the purity of her features, her fresh complexion, and a figure which the chisel of a Praxiteles could not have made more perfect. And this woman had become a sublime artiste, another Malibran, of whom Musset might have said:

'And thy songs in the skies bore away sorrow.'

And this voice which the most adored of poets has cele­brated in his immortal stanzas,

'that voice of the heart which alone finds the heart'

such a voice was that of La Stilla in all its inexpressible magnificence.

Yet this great artiste, who reproduced with such per­fection the accents of tenderness, the most powerful feelings of the soul, had never it was said. experienced their effect. Never had she loved, never had her eyes responded to the thousand looks which were concentrated on her upon the stage. It seemed that she lived for her art and for her art alone.
See also
External Links