Death
From Rocklopedia Fakebandica
Jump to navigation
Jump to search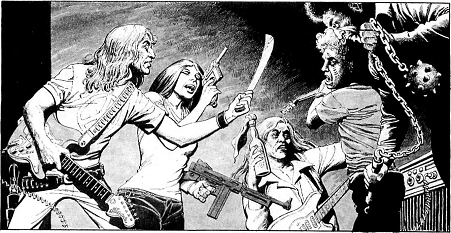 Shock rock parody band from the Rolling Stone parody "Rock 'N' Rollin' Stone" feature of tween satire mag Crazy #3 (March 1974). From St. Louis, they were founded by Peruvian vocalist Umberto Togarowa, who recruited former country and western singer Adelle Farmerdaughter. The only two permanent members, they kill a member of the band at every performance, but make it look like an accident so they don't get arrested.
Lineup:
Umberto Togarowa, vocals
Adelle Farmerdaughter, vocals
unnamed bassist, deceased
songs:
"Railroad Spike Through My Throat (Can't Hit the Right Note)"
"I Will Be, I Am, I Was," their new single, hit Number Ten on the national charts.
They also cover "The Last Kiss," "Tell Laura I Love Her," "Honey," and "Maxwell's Silver Hammer"
Albums
Stab, Choke, and Die
Cremation
See also
External Links