Difference between revisions of "Dave Dare and His Devils"
From Rocklopedia Fakebandica
Jump to navigation
Jump to search
 

 

Line 14:
Line 14:
 
 
 

[[Category:1966]]

 

[[Category:1966]]

−

[[Category:Comic books]]

+

[[Category:]]

 

[[Category:Rock]]

 

[[Category:Rock]]
---
Latest revision as of 10:13, 14 October 2020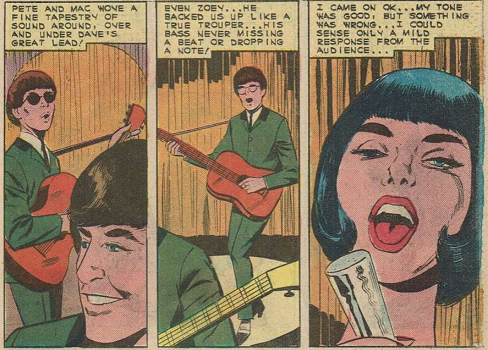 Successful rock group from the story "The Beatles Saved My Romance" from the Charlton romance comic book Summer Love #47 (October 1966). Formed in high school, they struggle after graduation, driven by leader Dave until they get a regular club gig. He and singer Patti date and go steady But Patti has "nervous exhaustion" the night they are to perform for producer Phil Conti, and Dave has to sing all her parts. But Patti thinks the band sounds better without her, and Conti agrees. She nobly drops out of the band so they can go on to success. Conti warns Dave "If you're smart, you'll have no romance other than with your fans." This makes Patti try to break up with Dave, but he points out how all The Beatles are married, so they can make it also.
The band have a number of hits and get two gold records in two months despite the fact they NEVER HAVE A DRUMMER.
Lineup:
Dave Dare, lead guitar, vocals
Pete, guitar
Mac, guitar
Zoey, bass
Patti, vocals
External Links